Hello dear readers,
Welcome to our December 2010 Naturally Clear News update, a free service we offer to those who have downloaded our eBook, Clear Any Skin Problem Naturally.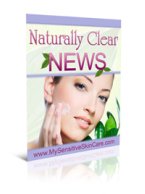 For those of you that have been with us for a while, I've been sending out the Naturally Clear News updates every month since our site began in May of 2009. I have never missed a newsletter until last month! I am very sorry that I wasn't able to write in November.
So many things happened all at once. A dear family member passed away, I fell and injured my back, (I'm better now), several items in our home broke and completely disrupted daily life, several family members developed severe health challenges, and on and on it went.
I am still trying to catch up! I am still not sure exactly how everything in my schedule is going to work out, as everything is still up in the air, so for the moment I will be publishing the Naturally Clear News on an irregular basis until I am able to get back into a more regular work schedule!
In this holiday season, one of our skin care partners is offering a $30 discount and free shipping until December 11, be sure to check it out!
In this issue...

Skin Care Sale Until December 11
A Free, Fast Way to Help Skin Problems and Stress
Holiday Homemade Skin Care Recipes
Help Us to Help You!

Carolyn's Facial Fitness Skin Care On Sale Until December 11
Carolyn's Facial Fitness is offering a $30 discount and free shipping on her fabulous 7-piece Complete Therapy Pack until December 11. Use Discount Code: CELEBRATE30 when you order.
Carolyn has created a safe, nontoxic and very effective line of antiaging products. You can read my review of my experience with the products here at Review of Carolyn's Facial Fitness Skincare.
Free, Fast Way to Help Skin Problems and Stress
This month's Natural Health Tip of the Month might seem a little strange if you've never tried it, but is a really fantastic, simple, fast and FREE way to help your skin, your health, and your whole body.
It's a self help technique called Emotional Freedom Technique or EFT, and is also called "Tapping". It is a very simple and powerful technique that activates the self healing mechanisms in your body and mind, and can be used for all kinds of physical and emotional challenges.
It was originally used to help veterans recover from post traumatic stress, however it has since been discovered to help almost any kind of health challenge.
It can even be used for something like skin problems when you don't know exactly what might be causing your skin rashes.
It's been effective for so many people, and yet it's not a cure all, since we are all so unique.
My own experience has been that it helps some things and does not help other things in my body.
For example, if I am very stressed and having trouble relaxing, it always helps me feel calmer. I learned that it helps a lot if you injure yourself. When I fell and got a huge bump on my head, I tapped several times and by the next day, the bump was almost gone. It does not however seem to help when I have a headache!
People use EFT for all kinds of health issues and it is simple to learn. The website www.Emofree.com offers a free eBook that will teach you the technique. There are all kinds of free resources on the site to help you tailor the technique to your own needs. I hope you find it helpful, especially during these stressful times!
Sweet Skin Care Recipes for the Holidays
These are some fun skincare recipes for sensitive skin that use some of our favorite, yummy ingredients that we love to eat during the holidays.
Be sure to do a skin test first to make sure you are not allergic to these ingredients! For the safest homemade skincare products, use organic ingredients.
Chocolate Facial Mask - This facial mask is good enough to eat, and contains natural ingredients that help to tone, firm and exfoliate your skin. And, the chocolate is somewhat energizing!
Mix equal amounts of yogurt, raw chocolate powder, honey, and oatmeal. You can very the amounts depending on your own preferences. Apply to your skin and relax for at least 5 minutes, and wash off with warm water.
Energizing Body Scrub - Use this in the morning, as is it is definitely energizing! Mix equal amounts of organic coffee and sugar, then add a small amount of your favorite natural oil, enough to make a paste. Organic, unrefined virgin coconut oil smells heavenly! Apply to your body in the shower, and rinse off.
The coffee contains many properties that are beneficial for the skin, and it also will give you a little "lift" because some of the caffeine will absorb through your skin. The sugar helps to exfoliate your skin and the oil provides moisture. Your skin will feel silky soft after this treatment!
If you have found our website helpful, could you do us a favor? Would you be willing to share our site with your friends, on Facebook, or Twitter, or your favorite social bookmarks site?
We have lots of ways that you can share our site which will help more people with skin problems to find safe, natural and affordable solutions to their skin problems.
You can visit the bottom of any page on our site and you'll see a place where you can add us to your social bookmarks.
I so appreciate your support so MySensitiveSkinCare.com can continue to grow and provide you with the best sensitive skincare information! Thank you so much for taking an extra moment to consider this request! Best wishes,


P.S. If you'd like to stay updated with our newest articles and discussions throughout the month, please visit our My Sensitive Skin Care Blog which you can also add to your RSS reader!

Copyright ©2009 - 2010 MySensitiveSkinCare.com

I'd like you to know....

This website is a labor of love, and was created to share information about new solutions for sensitive skin challenges, and the affect of cosmetic ingredients on sensitive skin.

To help support our work and the cost of maintaining this website, we receive income from several affiliate merchant partners whose products we use and are proud to recommend.

When you choose to make a purchase from a link on this site, we receive a small commission which helps to keep our site up and running.

I am extremely selective about the products that we recommend, and I only recommend those products which I use myself or have investigated thoroughly.

Thank you and blessings!