Hello dear readers,
I am very sorry for my long absence! Some of you may know that I've had a number of challenges in the past few months that included having emergency eye surgery!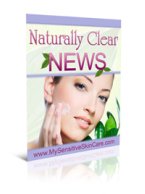 As you can imagine, it has been very difficult for me to sit in front of the computer. Thankfully, I am getting better each day, but I am still quite limited in what I can do, and so many tasks have been left undone.
For the time being, I will be sending out this Naturally Clear News update on an irregular basis.
Thanks so much for your patience and understanding! I so appreciate the warm wishes that many of you have sent my way during this difficult time.
In this issue...

Natural Health Tip for Beautiful Skin
New Product Review - An Amazing Topical Vitamin C
Deep Discounts on Hypoallergenic Products
This Month's Homemade Skin Care Recipes

Natural Health Tip for Beautiful Skin
This is one of the most overlooked natural health strategies for radiant natural beauty, and for clearing up your skin. It is simple, free, and yet not always easy to get. When you don't get enough, your skin and your whole body suffers.
Yes, I'm talking about one of your body's most miraculous self healing mechanisms. Learn more about how how to sleep better and to improve your health and the natural radiance of your skin!
Product Review - Amazing Results With New Topical Vitamin C
I recently reviewed a new fragrance free topical vitamin C serum. In the past I have tried a lot of vitamin C products for the skin and they ALL caused my skin to break out.
I wasn't expecting much, as I had given up a long time ago on using vitamin C for my skin. I have to admit, I was quite amazed at my results with this new product.
It is a simple and natural formula with no scent or harmful ingredients, and it has worked almost immediately on any kind of skin rash that I have.
Within a few minutes, the itching, burning and redness from my skin eruptions is gone! I've now been using this for a month and I'm still getting great results.
Check out my review of ReCverin Topical Vitamin C.
Deep Discounts on Hypoallergenic Skin Care
Cleure, who makes one of the only brands of chemically safe hypoallergenic products that I have found, is having a closeout sale on their bargain basement products.
Everything in their Bargain Basement is just $.99 until February 28.
These are older versions of their product line, so do check ingredients on some of these older formulas.
They also are offering free shipping and 15% - 50% discounts on all their cosmetics!
New Home Recipes for Sensitive Hair Care
Please be sure to do a skin test first to make sure you are not allergic to these ingredients!
Natural Hair Curling Gel
Did you know that boiling and straining flax seeds is a simple and very affordable natural hair gel? This works best for frizzy or kinky hair, and it can help hold your curls for longer. Add a touch of coconut oil if you'd like some extra shine to your curls!
Natural Hair Shine
It's amazing how mother nature can help us to be more beautiful! Here is a simple way to add shine and softness to your hair. Whip up some coconut oil with a little aloe vera gel, and voila! This works well even for thin and fine hair, and it smells great!
Affordable Hair Rinse
This is a really simple and affordable way to create soft, shiny and very manageable hair. Dilute a little apple cider vinegar in some water, and apply to your hair after shampooing. Your hair might smell a bit like a salad, but you'll love the effect!
Affordable Hair Conditioner
This is probably an ingredient that you already have in your refrigerator, and it really works! I can't tell you how many women who have tried endless amounts of fancy hair products, but they can't find anything that works quite as well as this ...
Mayonnaise!! Yes, just apply to freshly shampooed hair, let sit for a few minutes. Yes, you might have a little of a potato salad smell to your hair but it will be luscious!
Please Visit Our Valued Sponsors
MAINTAIN Beautiful Skin. Increase COLLAGEN Production. My Nu You
The most advanced age reversing cosmeceuticals in the world! Blackbox Cosmetics
If you find our newsletter, our website or our free eBook helpful, please take a moment to share our site with others that you know who may benefit from this information.
You can also share our site on Facebook, Twitter or any other way, and you can also bookmark us at your favorite social bookmarks page.
Just visit the bottom of any page on our site, including our Sensitive Skin Care Blog and you'll see a place where you can add us to your social bookmarks.
I am very grateful for your support to help My Sensitive Skin Care to grow and continue to provide you with safe, natural solutions for your sensitive skincare needs! Blessings,


P.S. If you'd like to stay updated with our newest articles and discussions throughout the month, please visit our My Sensitive Skin Care Blog which you can also add to your RSS reader!

Copyright ©2009 - 2011 MySensitiveSkinCare.com

I'd like you to know....

This website is a labor of love, and was created to share information about new solutions for sensitive skin challenges, and the affect of cosmetic ingredients on sensitive skin.

To help support our work and the cost of maintaining this website, we receive income from several affiliate merchant partners whose products we use and are proud to recommend.

When you choose to make a purchase from a link on this site, we receive a small commission which helps to keep our site up and running.

I am extremely selective about the products that we recommend, and I only recommend those products which I use myself or have investigated thoroughly.

Thank you and blessings to everyone who shares and participates here!