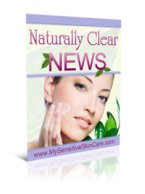 Welcome to our October Naturally Clear News! I hope you are your sensitive skin are well, even during these stressful times we are living in. We've got some great new things happening this month, which is partly why this newsletter is a little late!
Important News! - Get Your Newest Copy of Our Ebook
This month I just finished updating our eBook Clear ANY Skin Problem Naturally with a brand new cover, lots of fun photos and some new, updated information and links.
Get Your NEW Updated Free eBook Here! If you downloaded your eBook before October 17, you can delete the older version from your computer, as it contains some outdated links.
I also updated several of our free reports, as some of the links in them changed. Please get your newest, Updated Free Reports here!
NEW Salicylates and Sensitive Skin
You Asked for It - More Products!
Many of you have written to me and asked for more information on sensitive skin care products. Although it has been difficult to find good hypoallergenic products that are also chemically safe, there are a few out there! Here is our latest product news!
Product Discounts Until October 31
Cleure is having a special and offering free products with the purchase of their product packages... just a few more days left! See:
Loose Mineral Intro Super Pack
NEW Mineral Cosmetics and Mineral Makeup
Cleure has just come out with a new line of cosmetics and mineral makeup. They are some of the best products I've found that are both effective and also safe and non-irritating. See Cleure Cosmetics
FREE Gift Until October 31
I'm offering anyone who makes a Cleure purchase from my site a free 63 page eBook Product Labels, A Cautionary Tale.
This is a very helpful eBook with some rather shocking information about the ingredients in your home cleaning products. The book also provides lots of natural home recipes for making your own VERY affordable home cleaning supplies. Written by Dr. Flora Stay, CEO of Cleure, this book is currently NOT available at their website. Simply make your purchase and I will e-mail you the book.
Home Recipes of the Month - Pamper Your Feet!
Well, have you noticed that life is quite stressful for most of us these days?! You can read my latest story of skin care challenges in my My Natural Beauty Journal
Today I have several gentle, simple home recipes to help you de-stress and relax!
Gentle Foot Scrub - mix equal parts of Himalayan salt or sea salt with a good health cold pressed oil like avocado oil, coconut, olive, or jojoba oil. Massage into your tired tootsies, leave on for give minutes and then rinse. Aaaah!
Warm Tea Foot Baths
If your sensitive skin can handle herbal teas, you may find these deliciously refreshing and soothing! You can even take a mini 'spa break' for your feet by doing a foot bath and then a foot scrub!
Boil a quart or more of water in a large pan and then add a handful of fresh herbs or tea bags. Let steep for a few minutes, then add a few ice cubes to cool enough so that you can immerse your feet.
Peppermint Tea Foot Bath - refreshing, cooling, and helps reduce odors and fungal infections.
Chamomile Tea Foot Bath - relaxing, soothing, and soothing for itchy skin.
Ginger Tea Foot Bath - Use just a little bit of ginger, which is warming and good for winter nights!
Green Tea Foot Bath - Invigorating, best done earlier in the day!
Oatmeal Foot Bath - Good for dry, itchy or peeling skin on the feet.
Relaxing Foot Bath Tip - Add marbles to bottom of the pan to roll your feet on! This helps your feet AND your whole body to completely relax.
Do you have some great home recipes to care for your feet or your sensitive skin? Please share them on our Skin Care Forums!
Help Our Site to Grow
If you like our work, please take a moment to Social Bookmark the pages you like! Scroll to the bottom of any page on our site to where it says Share This Page. It's simple and will help others who have sensitive skin to find our site. Thank you so much {!firstname_fix}! :-)
Best wishes,
Copyright ©2009 MySensitiveSkinCare.com