Hello dear readers,
Welcome to our October 2010 Naturally Clear News update, a free service offered by MySensitiveSkincare.com .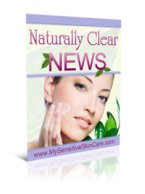 We're in transition this month, and if you've visited our site recently you may have noticed that our site is getting a makeover! Some pages are in the new design, and some are still in our original format.
I'm thrilled with the new look, which is the surprise I mentioned to you last time. It will take us a while to change all of our pages over!
There are other transitions happening as well! Our site has grown quite a bit, and my own life is in transition as well. (More on that soon!)
In preparation for a new year that promises to be filled with many changes, I will be streamlining this newsletter to more closely meet YOUR needs and interests!
So, before I move on to our newsletter for this month, I'd like to ask for your feedback. Please let me know what parts of this newsletter are most useful for you!
As a special "thank you" for filling out this 30 second survey, I've enclosed a little gift for you ... a NEW 11 page eBook called Natural Tips for Bath and Body Beauty. You'll see a link to it when you've finished taking our poll.
Click to Share and Get Your Book
Thanks so much, and now on to this months news!
In this issue...

Natural Health Tip of the Month
Product Review - the NEW Cleure Shampoo
Your Questions and Comments
This Month's Homemade Skin Care Recipes
A Special Request

Natural Health Tip of the Month
Well, life for everyone seems to be quite stressful these days. I am finding that many of the natural health tips that help the most are those that are designed to reduce stress. I hope you are finding these helpful as well.
Well here's another tip that is SO simple and might just help you to feel SO much better!!
Have you ever tried ....
Natural Calm, also known as Magnesium Citrate?
This is a highly absorbable form of magnesium that you add to water and drink as a tea. You can feel the effect as SOON as you drink it.
The immediate result is a feeling of " ... aaaahhhhhh " followed by a feeling of deep relaxation and peace.
It does NOT make you sleepy although it will help relax tense muscles.
It comes in a white powder that fizzes and you can mix in water. You can get it in containers or individual packets for travel.
There are other brands of magnesium citrate I've tried but they don't taste quite as nice.
The flavor is somewhat tart and I sometimes add stevia or a little juice to mine for more flavor.
One caution, start slowly with the recommended amounts or less. You'll know when you've had too much as it can make your bowels, well, overactive!!
I find a half teaspoon to a teaspoon is a good amount to start with. Natural Calm comes in packets or affordable containers.
Review of a NEW Hypoallergenic Shampoo
One of the most popular pages on our site is our hypoallergenic shampoo page which shares the story of how long it took me to find a safe, non-toxic shampoo that actually looked good on my hair.
Well, I've been using the shampoo and conditioner that I discovered which is from Cleure ever since!
Now, Cleure has created several different shampoo formulations over the years. When I found them, their shampoo was known as "Purenity" and it worked great, bringing shine and body to my thin, fine, limp hair without using Sodium Lauryl Sulfate which can cause skin rashes.
My only difficulty with the Purenity shampoo and conditioner was the scent of the ingredients. The products did not contain any added fragrance or perfumes, but the scent of the ingredients took me a while to get used to.
For those who may not know, I have fragrance allergies and what I've learned is that many fragrance free products have chemicals added to them to mask the natural scents of the ingredients. Those scent masking chemicals can also be irritating, so it can be a real challenge to find products!!
I generally get a big Cleure order and it lasts me for a while, to save on shipping, and so for the last year I've been using my supplies of PUrenity shampoo.
Last week I ran out and ordered some more shampoo (and some of their other great products) and was pleasantly surprised when they arrived!
The shampoo and conditioner are NEW formulations and the ingredients contain LESS scent! Depending on how sensitive you are, you will find the new shampoo has no scent at all, or very, very little. I would say from my own experience that the new shampoo has about 90% less scent than their earlier version.
The new conditioner has a bit more scent than the shampoo, but is still at least 70% less scent than their previous formulation. The conditioner also can be used as a shave cream!
Even better, the new shampoo and conditioner still provide the same fantastic results on the hair!! I SO appreciate being able to have great looking hair, even when I can't use most hair products!!
If you are frustrated with your current hair products, you may want to give the new Cleure Shampoo and conditioner a try.
Help for Eczema on Inner Cheeks
How to Lighten Brown Spots on Skin
Itching Eyes When I Use Conditioner
Question About Lovemoon Shampoo
Intolerance to Sensitive Skincare Products
Home Recipes for Dry Skin and for Hair
Be sure to do a skin test first to make sure you are not allergic to these ingredients!
Gentle Dry Skin Lotion - Mix an equal amount of warm milk and chamomile flowers. Let the chamomile steep in the warm milk for several hours. Strain the milk and then add a little honey, about one quarter cup of honey if you used one cup of milk.
Gentle Skin Cleanser - Mix a little grated cucumber with a few teaspoons of yogurt and apply to your skin as a refreshing and gentle facial cleanser.
Natural Hair Volumizer - this is a fun and very simple home recipe for volumizing hair. Mix an equal amount of your favorite hypoallergenic hair conditioner with Epsom Salts! For extra conditioning, warm your conditioner so that you get a little of the "hot oil" treatment for your hair! Leave on for 20 minutes and then rinse.
Do you know of any helpful websites that would be good partners for MySensitiveSkinCare.com? We are always grateful for the support of other websites linking to us, so just reply to this newsletter if you have any suggestions or contacts of sites that provide information about natural health and skincare.
You can also share our site on Facebook, Twitter or any other way, and you can also bookmark us!
Just visit the bottom of any page on our site and you'll see a place where you can add us to your social bookmarks.
I so appreciate your support so MySensitiveSkinCare.com can continue to grow and provide you with the best sensitive skincare information! Thank you very much for taking an extra moment to consider this request!


P.S. If you'd like to stay updated with our newest articles and discussions throughout the month, please visit our My Sensitive Skin Care Blog which you can also add to your RSS reader!

Copyright ©2009 - 2010 MySensitiveSkinCare.com

I'd like you to know....

This website is a labor of love, and was created to share information about new solutions for sensitive skin challenges, and the affect of cosmetic ingredients on sensitive skin.

To help support our work and the cost of maintaining this website, we receive income from several affiliate merchant partners whose products we use and are proud to recommend.

When you choose to make a purchase from a link on this site, we receive a small commission which helps to keep our site up and running.

I am extremely selective about the products that we recommend, and I only recommend those products which I use myself or have investigated thoroughly.

Thank you and blessings!