Face Lift Exercise
Natural Face Lift Without Surgery
A face lift exercise regimen could be just what you've been searching for if you're interested in naturally eliminating facial wrinkles, sagging skin, and crows feet. It's much less expensive than cosmetic surgery and can deliver some of the same results!
How Does Facial Exercise Work?
Face lift exercise tones the muscles and connecting tissue under the surface of the skin and increases the blood circulation in the facial area, which means you can enjoy the skin of your youth simply doing a few exercises each day.
Benefits of Facial Exercise
No expensive or invasive surgeries
Youthful, toned, glowing skin
Bags under the eyes reduced or eliminated
Smaller pores
Fewer wrinkles
Age more gracefully
Improved muscle tone in neck and jowls
No side effects
Drawbacks of Facial Exercise
Can sometimes result in a bulky appearance and a wider facial structure
Some types of facial exercise can actually deepen wrinkles, depending on the program you use
Performed improperly, you could actually cause damage to your facial skin or strain your neck muscles
You must commit to a lifetime regimen to enjoy continued results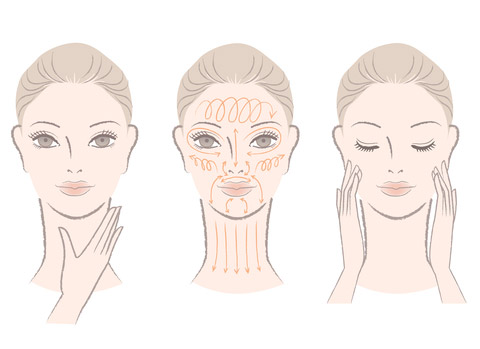 Free Facial Exercises
Wondering what it's like to do face lift exercise? Try these free facial exercises for a month, and see if you can notice any improvements in your appearance!
*Please note these are not a full, comprehensive set of exercises, but they do provide a "lift" for specific areas of the face.
"Kissie Face" - Sit straight up in a chair. Tilt your head until you are facing the ceiling. Close your eyes. Imagine you are kissing someone - pucker your lips together and then stretch your lips in that position toward the ceiling. Hold for 10 seconds, relax, tilt your head forward again and then do the exercise 4 more times.


Neck Firming Lift Lie down on your bed and hang your head over the edge of the bed. Draw your head forward as if doing a sit up - toward your core. Hold for 10 seconds. Return to the original position and do 4 more times.


Gentle Facial Refresher - This gentle exercise increases blood circulation. Using the pads of your two middle fingers, tap your face in several areas with quick light taps.


Eyebrow Lift - Place your index fingers above your brows, then open your eyes wide and lift your brow, pushing against your fingers. Do this ten times. Really lifts your eyes!
You can find more free facial exercises in our free eBook Clear Any Skin Problem Naturally
Tips for Choosing a Facial Exercise Program
Regardless of whether you opt for free facial exercises or choose to purchase a program, take a before and after photo so you can see at a glance whether the methods are working or not.
Take a photo at the start of your regimen and then take another one 30 days into the program. You should be able to see some results if it's working.
Conduct research. Look at before and after photos of other users of the program you are interested in, and visit forums that discuss various face lift exercise programs.
Facial Exercise Programs

When conducting your research on the various programs, be sure to take time to look at he before and after photos of people who have done the program. You may notice that some women appear bulkier or seem to have a wider face after they have done the exercises for several months.
This is a possibility depending on the type of exercise program that you choose, so you should be aware of this before committing to a regular facial exercise program.
CFF(tm) - Carolyn's Facial Fitness program promises to help you reduce your facial age by 10-15 years with specific exercises for the entire facial area, including the neck and chin area. The exercises are initially done 15 minutes per day, five days a week. After several months, you can do them 3 or 4 times weekly to maintain results.
Happy Face Yoga - includes the techniques of yoga, but for the face. You'll perform muscle-building exercises while also incorporating visualization and relaxation techniques. There are many kinds of yoga for the face, and some people who use this technique look "overbuilt" to me. I have not yet found a comprehensive facial yoga system that creates a balanced look to the face.
FlexEffect Facial Building - tones skin through two disciplines: Jolting(r) and Cross Stretching(r), using facial exercise devices. Think of this program as resistance training for facial muscles! The "after" photos look bulky to me and I wouldn't choose this face lift exercise method for myself.
Cynthia Rowlands Facial Magic - Cynthia's program appears to get natural looking results, however is sold along with facial skincare products which contain ingredients and chemicals that I would find irritating for sensitive skin. I tried to find a way to purchase her program without the facial products but I could not. She also sells a special lip plumping device that temporarily produces more volume in the lips.

Customer reviews on Facial Magic are mostly positive, however some customers found them too time consuming, requiring 45 minutes a day and special white gloves.
Carole Maggio Facercise - There isn't a lot of information available on her site about the exercises, but as far as I can tell, you need to do them twice a day, every day. Customer reviews are mostly positive however a number of people found the program accentuated their wrinkles, especially the nasial labial folds between the nose and lips.
My Experience with Face Lift Exercise
That is why I use the Carolyn's Facial Fitness facial exercise program, as the people that use it get great results, without a bulky appearance. Even people who looked bulky from using other facial exercise programs end up looking naturally beautiful and fit after using Carolyn's program for a few months. See Nonie's before and after pictures which are the best example of this.
Carolyn herself who developed the program actually looks younger the longer she uses it! Carolyn offers a lot of helpful information on the program right on her site, so that you can learn about the benefits of face lift exercise and how to do it correctly for the best results.
I have been using her program for over a year now and it has halted the aging process on my face (no more sagging and bagging, thank goodness!!) and also is reducing some of the wrinkles. I recently had a neck injury so I've had to modify my facial exercises a bit, however I am finding the program still works really well even though I can't do everything I used to.
I feel very lucky to have found these things, as I don't have a lot of time to spend a lot of time on anti-aging skincare. I spend 15 minutes three to five days a week, doing the exercises, and I use a really amazing set of healthy skincare products that produce some rather astounding results in reducing aging and inflammation for sensitive skin. My skincare regimen takes three minutes, twice a day, or maybe five if I apply some mineral makeup before going out in the sun.
I believe there are too many other pressing needs in the world to justify becoming excessively concerned with our appearance, however for those of us with embarassing rashes, outbreaks and other skin conditions, it is really a blessing to find good quality, natural supports for our sensitive skin care like face lift exercise, that can help us to look and feel our best!