Acne Sensitive Skin Treatment
New Hope for Sensitive Acne Prone Skin
These are some new acne sensitive skin treatment options for those who cannot use traditional acne remedies. You'll also find natural skin care recipes and skin care tips for sensitive acne prone skin.
If your sensitive skin does not allow you to use traditional acne remedies, you've come to the right place. We've collected a whole host of highly effective acne treatments for sensitive skin that are specifically designed to help acne prone sensitive skin.
Why Most Acne Treatments Don't Work
for Acne and Sensitive Skin
One of the biggest challenges of finding the right acne sensitive skin treatment is that many of the skin care ingredients used to treat acne like benzoyl peroxide and salicylic acid can seriously inflame sensitive skin. For this reason there are very few known acne treatments for sensitive skin.
Yes, that's the bad news. I know this is the last thing you want to hear, especially when if are a young person trying to look your best!
The good news is, there is new hope for sensitive acne prone skin! There are dozens of little known, highly effective acne sensitive skin treatment ideas that are actually safer, less expensive and more fun to us! No smelly creams or painful procedures, it's all gentle and much healthier for you.
These acne treatments for sensitive skin actually helped me to completely get rid of my acne, and also helped me to get rid of acne scars. This section of our site has a lot of information, and so I recommend you bookmark this page to refer back to it as you begin your journey towards a clear and blemish free complexion!
What Causes Acne?
What causes acne? This is an important question when you are trying to figure out the right acne sensitive skin treatment.
We now know that acne is the result of several different kinds of imbalances in the body.
It is important to understand a little about the causes of acne so that we can use acne sensitive skin treatments that address the "root" of the problem.
Please visit our What Causes Acne? section to learn more and to discover some little known daily tips to help your acne prone sensitive skin.
Acne Treatment for Sensitive Skin
Since there are so few acne sensitive skin treatment options for those of us with sensitive, acne prone skin, your best approach is a holistic one which will not only clear up your acne but will bring your whole body into a new state of health.
Although it may feel like a burden now to have sensitive skin, you could also look at it as a blessing in disguise.
You see, many of the traditional treatments for acne include substances that can be irritating or even toxic to the skin, or which can have side effects which disrupt other parts of the body.
In fact, many of these ingredients are toxic enough that pregnant women are advised to avoid them at all costs! Yikes!!
Look at What's In Traditional Acne Treatments
Traditional acne treatments usually involve:
Benzoyl Peroxide - kills germs that cause acne helps remove oils from the skin along with dead skin cells. Causes drying and peeling and just a tiny amount could irritate sensitive skin and trigger rashes all over.

Benzoyl peroxide is considered a hazardous ingredient and is restricted for use in Canada. It is linked to allergies, impairment of the immune system, irritations of the skin, eyes and lungs, and system organ toxicity.
Salicylic acid - slows down the shedding of cells inside your hair follicle and breaks down whiteheads and blackheads.

Salicylic acid is the active ingredient in aspirin, and it can be irritating to people who are prone to allergies. It is especially toxic for people who are allergic to salicylates.

Salicylate sensitivity and salicylate allergies are not yet well known in the medical community, so some people who have this condition are not aware of it until they develop a reaction to a skin care product.

Salicylic acid is restricted for us in Japan and Canada, its byproducts do not biodegrade, but accumulate in our bodies and in the water and the environment.

If that weren't bad enough, salicylic acid is linked to neuroxicity, which means there is concern that it is linked to birth defects, developmental defects and neurological problems.

It is also linked to organ system toxicity, which means it affects many different systems of our bodies.

Salicylic acid is capable of enhanced absorption into the skin, so it will bypass all the layers of your skin and enter your body systems directly.

Salicylic acid is contained in most over the counter acne remedies, and also in some shampoos, cosmetics, skin care products, sunscreens and even baby sunscreen!

Some people who are highly allergic have found relief by choosing to use salicylate free products which do not contain salicylic acid.
Retin A - is considered a hazardous ingredient and restricted for use in Canada, and is linked to endocrine toxicity, which can have effects ranging from infertility to reproductive cancers, birth defects and developmental delays.

A strong concern is that Retin-A has been shown to accumulate in body tissues, in wildlife and in the environment for many years after initial exposure. It is also linked to organ system toxicity and toxicity to the brain and nervous system.
Glycolic compounds - tend to be less toxic than benzoyl peroxide, salicylic acid and Retin-A, but these are restricted for use in Canada and have been linked to organ system toxicity.
Antibiotics - these acne treatments are offered either topically or in pill form. Antibiotics are great when we absolutely need them, but they destroy not only unfriendly bacteria, but the friendly bacteria in our digestive tracts. Side effects of antibiotics include yeast infections and compromised immune system functioning.
Birth control pills - these have strong side effects there are natural ways to balance your hormones without resorting to medications, unless you absolutely need them.
There are so many more natural and less invasive acne treatments for sensitive skin that can clear up your complexion and also increase your energy levels, and reduce the likelihood of getting future acne outbreaks. Let's talk about them!
Natural Acne Treatment
There are several different approaches you can take for natural acne sensitive skin treatment.
You can use safer and gentler skin care products, which can clear up many acne outbreaks.

In fact there is a REALLY simple program of three inexpensive facial care products that is almost guaranteed to improve your acne within two weeks. I'll share more about that below.


You can modify your diet, which almost always works and is a proven acne sensitive skin treatment.


You can use some gentle natural acne home remedies to see if these help eliminate those dreaded outbreaks.
First Steps for Acne Prone Sensitive Skin
Here are some quick tips you can try right now for gentle acne sensitive skin treatment.
Avoid scrubbing the skin which can further irritate acne eruptions.
Use a gentle, soap free hypoallergenic facial cleanser that is specially made for sensitive skin.
The best acne treatments for sensitive skin are combination treatments which remove excess oil, unclog pores and maintain the oil and water balance in your skin.
We have seen acne clear up within a few weeks of switching to safer hypoallergenic skin care products. Please see our recommended skin care program below.
The most effective skin care products for acne that I have found are those which do not contain toxins, and which do not contain allergy producing ingredients that cause skin inflammation and break outs.
Use non-comedogenic hypoallergenic make up so the pores do not clog. Non-comedogic means that it does not clog your pores
Avoid the sun which can inflame acne eruptions.
Oily hair can worsen acne because the skin cannot breathe properly . Shampoo hair daily with a gentle hypoallergenic shampoo that does not contain sodium lauryl sulfate, which can aggravate inflammations.
Let your skin breath - wear cotton clothes, especially under synthetic athletic wear.
Avoid aluminum and aluminum products, which are contained in many deodorant products. The most effective hypoallergenic deodorant I've found contains natural minerals salts and alum, a safe and natural form of aluminum that is not absorbed by the body.
Actually, this type of natural mineral crystal contains safe ingredients that are also an excellent therapy for active acne eruptions, as the mineral salts calm down the eruptions. Simply moisten the crystal and apply to your face and watch the acne disappear!
Modify Your Diet - The MOST Effective Natural Acne Sensitive Skin Treatment
This isn't the most popular acne sensitive skin treatment, but it is definitely one of the most effective! It takes some work but you will also be rewarded a hundred times over with the health benefits of eating a less inflammatory and toxic diet.
Did you know that a dietary approach to acne treatment for sensitive skin has been shown in research to decrease acne eruptions by 50%!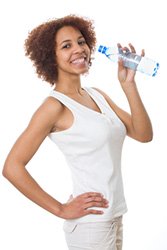 Drink plenty of water - I know, you've heard it a million times but it really does help, and is one of your simplest and most affordable acne sensitive skin treatment options!
Eat a diet with plenty of fresh vegetables and fruits, whole grains, legumes, and lean meats and fish. I know, I know, I sound like your mother, right? :-)
Eliminate fried foods and trans fats. Some people find relief from acne by avoiding milk, cheese and dairy products.
Eat plenty of organic, unrefined omega-3 oils like ground flaxseeds and sardines. I recommend you also supplement your diet with a good quality fish oil that is free from mercury and other contaminants.
Avoid chocolate, sugar, caffeine, carbonated beverages, iodized salt, shellfish and wheat.
Oh no, give up chocolate? And my nice yummy breads? Ouch!!! And sugar??? No way!!!!!
I was afraid to tell you all this, but I really want you to know all the possible ways to get rid of your acne.
Yes, I'm sorry to say that caffeine, wheat and sugar may increase the inflammation in your body, which can lead to acne eruptions.
Although wheat is a staple in many diets, I have heard that today's wheat crops have been genetically modified, which may be creating more digestive challenges for some.
Does that mean you are doomed to a boring, monastic life of eating rice and vegetables??? Not at all!!
Nowadays you have plenty of delicious gluten free and sugar free food options! I've noticed more and more gluten free products available at the grocery store these days. Ditto for the new low glycemic sweeteners like stevia, xylitol and agave which make it possible to enjoy sweets! There are any number of delicious other grains you can enjoy. It takes a little bit of learning, but isn't having a clear complexion is totally worth it!!
Make sure you eat enough natural vitamin A in leafy green vegetables. If your body can tolerate it, you can also taking spirulina, chlorella or other green foods which are very high in vitamin A. Vitamin A reduces sebum production and minimizes the growth of pimples.
Eat plenty of foods with zinc which helps prevent acne, eliminates blotches and lessens skin irritation and swelling. Foods with zinc include calf's liver, mushrooms, spinach, sesame seeds, pumpkin seeds, yogurt, green peas and shrimp.
Eat plenty of fiber so your body's elimination systems are working smoothly. Raw fruits and veggies, ground flax seed and whole grains are good sources of fiber.
Use non-toxic hypoallergenic products for your sensitive skin. Irritating chemicals and allergy producing ingredients can aggravate acne.
A Simple Acne Sensitive Skin Treatment That Really Works
We've seen very good results for acne sensitive skin treatment by using the following simple program of using three hypoallergenic products.
In fact, the company that makes these hypoallergenic products is so confident that they will help your acne, that if you try this program for two weeks and you don't see results, they will refund your money!
Acne Sensitive Skin Treatment Step 1 - Cleansing
Use this gentle hypoallergenic facial cleanser , once or twice per day. It will cleanse your skin without making it oily, and without drying soaps.
This cleanser is extremely affordable and will last practically forever. You can also use it for a gentle body wash.
Acne Sensitive Skin Treatment Step 2 - Toning
After you've washed your face, spray on this gentle, non-toxic hypoallergenic toner , which contains milk based Alpha Hydroxy acids. This hypoallergenic toner will gently exofliate your skin and encourage it to rejuvenate and heal more quickly, which will improve the scarring healing process.
Acne Sensitive Skin Treatment Step 3 - Moisturizing and Protecting
Now that your skin is gently cleansed and toned, its time to use a light, protective hypoallergenic facial moisturizer that will both nourish and protect your skin, helping it to heal more quickly without irritation. This moisturizer will protect your skin without creating oiliness, and a little goes a long way. One jar will last you a while!
Acne Sensitive Skin Treatment - Step 4 - Natural Coverage While Your Complexion Clears
While your acne is clearing up, you can both protect and nourish your complexion with gentle hypoallergenic loose minerals. These are made for both women and men and can help you to both look and feel great while your skin is healing.
For more stubborn blemishes you may want to use a concealer product, however many of these can actually clog up your skin and make it break out more!
This brand will not clog your pores and offers a light but effective non-toxic hypoallergenic concealer.
As I said, the company that makes these products is confident that they will help your acne. If not, they will refund your money!
What If It Doesn't Work?
If you really go for it and do the whole acne sensitive skin treatment program ... you clean up your diet, eliminate sugar and caffeine, stop using aluminum, and use safer hypoallergenic skin care products.
Well first, congratulations!! You are well on your way to having completely clear skin, and glowing health too!
What? You're doing all this and you are still suffering from acne? Well then, this is a good time to see a good doctor or naturopathic physician to have your thyroid and hormonal levels checked.
Hormonal imbalances which do not respond to a healthier diet and reduced toxins on the skin just nee a little extra help to get on the right track.
There are many natural ways to balance out your hormones, which may be the key that finally eliminates your acne for good if these other steps have not worked for you.
Holistic Natural Acne Treatment Program
If you're not ready to go to a doctor yet, but you ARE ready to make some changes in your life, I highly recommend this holistic acne treatment program which offers 233 pages of solid, expert advice AND counseling by a certified nutritionist to help you to permanently rid yourself of acne.
Homemade Acne Treatments
When you're having an acne outbreak, all you want to do is to get rid of it! Here are some quick homemade acne treatments that are made with ingredients from your kitchen. These are fantastic acne sensitive skin treatments, and they contain no harmful ingredients.
A word of caution here, even with natural homemade acne treatments, you need to go slowly. Because you have sensitive skin I recommend you test each acne home remedy first behind your ear or on the inside of your arm, just in case!
More Acne Sensitive Skin Treatment Ideas
For more detailed acne sensitive skin treatment tips, please visit our Natural Skin Care Remedies page which has a helpful section on Natural Remedies for Acne.
Acne Tips - What Other Visitors Have Shared
Click below to see contributions from other visitors to this page...

Home > Acne Sensitive Skin Treatment