Hair Dye Allergies
The Case for Switching to a Hypoallergenic Hair Dye

Hair dye allergies are unfortunately common for those of us with sensitive skin who have difficulty handling the chemicals that are in most hair colorings. If you have a reaction to hair dye, does that mean that you are doomed to mousy, dull looking hair? :~/
Thankfully, the answer is ... not at all!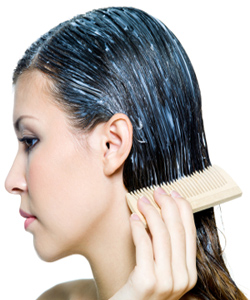 There IS hope now as more cosmetics companies are developing hair dye for sensitive skin and hypoallergenic hair dye products that can enhance the beauty of your hair without making you sick!
Hair dye allergies are on the increase and there has been a growing concern that some of the chemicals in hair dye are harmful to health. For example, in 2001 researchers in the U.S. discovered elevated levels of cancer in hairdressers and people who used hair dyes, especially before 1985.
Just today I checked the news and found several stories about women who ended up in the intensive care unit of their local hospital because of a severe allergic reaction to hair dye. Read below to see how serious the situation can become.
Symptoms of Hair Dye Allergies
A mild hair dye allergic reaction can include skin inflammation and dermatitis to the eyelids or top part of the ears, or the face, neck, upper back or chest. Sometimes an allergic reaction will not occur on your scalp, because the skin there is thicker and less prone to irritation.
A more severe allergic reaction can cause swelling and reddening of the face and scalp. It can even cause swelling of the eyelids or even difficulty breathing and anaphylaxis, a severe, whole body allergic reaction.
These are just a few stories I found in the news of people who had severe hair dye allergy reactions. In some cases these reactions happened even after the hairdresser performed a skin patch test to see if the client was allergic.
Hair Dye Puts Women In Burns Unit After Severe Reaction
Hair Dye Blunder Put Me in Intensive Care for a Week
Girl Wins Settlement After Dye Burns Her Scalp - This story is no longer available was at the Herald.ie news website.
Chemicals in Hair Dye Products
If you go to the beauty section of any drugstore and look at the ingredients of some of the most popular brands of hair coloring, you will find all kinds of ingredients that you may not want to put on your body.
Besides the fragrance, parabens, propelyne glycol, EDTA, propylene glycol, and DMDM hydantoin there are literally dozens of chemical ingredients with long scary names that I can't imagine would be good for you!
Here are just a few that I found on one label of a popular hair coloring product:
Oleamide MIPA, PEG-150/Stearyl/SMDI Copolymer, C12-15 Pareth-3, Oleth-2, Oleth-10, Sodium Sulfite, EDTA, Resorcinol, P-Phenylenediamine, P-Aminophenol, 4-Amino-2-Hydroxtoluene, N,N-BIS(2-Hydroxyethyl)-P-Phenylenediamine Sulfate, 1-Naphthol, Hydrogen Peroxide, Glyceryl Stearate, Stearamidopropyl Dimethylamine, PEG-75 Lanolin, Ceteareth-20, Oleth-10, Oleth-2, Etidronic Acid, Simethicone, Behentrimonium Chloride, Cyclomethicone, Ammonia, Trimethylsilylamodimethicone, Sodium Cocoamphopropionate, Disodium EDTA, Propylene Glycol, DMDM Hydantoin, Iodopropynyl Butylcarbamate.
Please request my free eBook which will show you how you can look up the ingredients in your skin care products to see how safe they are!
What Causes Hair Dye Allergies?
One of the chemicals in hair dye that causes the most hair dye allergies is PPD, also known as paraphenylenediamine or p-phenylenediamine.
PPD is found in permanent hair dye and is also used in some black henna products, lipsticks, and in textiles, furs, printing inks, oil, grease, and even gasoline. Black henna is used for tatoos and is not the same as the natural henna hair products you may find.
Yikes! Already I feel like I don't want to put that kind of stuff on my head!!
PPD hair dye is usually packed in two separate bottles, one with the PPD and another containing a developer or oxidizer liquid.
When the PPD interacts with the oxygen, it becomes partially oxidized and is more likely to cause a reaction to hair dye for those who are sensitive to it.
Fully oxidized PPD chemicals that are found in wigs or fur coats generally do not bother those with a PPD allergy.
PPD has been prohibited in some European Union countries because of its health dangers. I recommend you avoid it!
Hair Dye for Sensitive Skin
It is safe to say, if you have hair dye allergies you should stay away from permanent hair dyes. So what IS safe to use?
That will depend on exactly how sensitive your skin is, and how much risk you want to take.
Some people with hair dye allergies can use vegetable based temporary hair dyes. You will need to read the label and see whether you are comfortable putting these ingredients on your body.
ALWAYS do a skin patch test with any hair dye product before you put it on your head.
Hypoallergenic Hair Dye
It is extremely difficult to find good hypoallergenic hair dye. Even the products without PPD often have other irritants like parabens and propylene glycol in them.
So far the only products I've seen that can prevent hair dye allergies are the natural hair dyes, such as those from Light Mountain which are a little messy, and take a little longer to do their magic, but do NOT irritate your skin!
There is a new brand of natural brunette hair dye from Aubrey Organics Color Me Natural which work really well, and better than most natural hair dyes. Right now they are only available for brunettes (I am a blonde!) and so I encourage you to try it if you have doubts about using natural hair color.
My personal thoughts are this ... even if I didn't have sensitive skin, I would stay away from most permanent hair dye products. The chemicals used are very intense, and more and more people are becoming educated about the dangers of them.
I have found that my health has greatly improved since using safer skin care products and since that time, I've "detoxed" my hair care and personal care products as well.
Choose hypoallergenic hair care products and hypoallergenic hair dyes, and follow our simple, five step Natural Beauty Program and you will be able to develop shiny and beautiful hair naturally! :-)
Hair Dye Allergies - What Helps?
Have you discovered some tips that helped you to overcome hair dye allergies? Please share them!
Hair Dye Allergy Stories Other Visitors Have Shared
Click below to see contributions from other visitors to this page...