Safe Skin Care Products 
My Top Recommendations for
Sensitive Skin, Hair and
Personal Care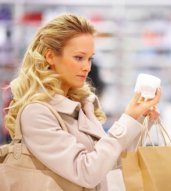 Here's where you can find all the safe skin care products for sensitive skin that I use and recommend, in one place.   I update this page every year and I'm happy to report that my favorite picks actually have gotten better!
All these product lines are paraben free, nontoxic, and free of added fragrances and perfumes. You can choose from botanical free hypoallergenic products, as well as safe skincare products that address specific skin concerns such as aging skin or inflamed skin.
Please note that sensitive skin often will react when you change skincare products, so we recommend going slowly, by making transitions gradually and always doing a skin test before you apply to your face.
| | | |
| --- | --- | --- |
| Hypoallergenic and Botanical Free | Gentle Antiaging | Organic and Natural Antiaging |
Our Cleure Review
Our XtendLife Review
Our CFF Review

Overall:
Rated - 4.75

Effectiveness


Non-toxic


Non-irritating


Affordability


Best for:
very hypersensitive skin, acne, allergies, all chronic skin conditions

Overall:
Rated - 4.5

Effectiveness


Non-toxic


Non-irritating


Affordability


Best for:
very sensitive aging skin, has a noticeable wrinkle reduction effect.

Overall
Rated - 4.3

Effectiveness


Non-toxic


Non-irritating


Affordability


Best for:
sensitive aging skin, a complete natural anti-aging system
My #1 Recommendation - Cleure Hypoallergenic
Skin Care
Since 2008 I haven't found anything better for sensitive skin.  These safe skin care products are brilliantly formulated to make you look and feel great even if you have allergies or sensitivities.  
They have a small list of ingredients, which means less to irritate your skin, and there are no added fragrances, toxins, parabens, plant allergens or other irritants.  The products are gluten free and salicylate free.
I keep trying other product lines for comparison, but Cleure is the only one that I stay with, that actually helps me to look better, without irritating my skin.  
This is the ONLY product line I've found which is hypoallergenic (free from plant allergents) AND which also is free from irritating chemicals which cause skin rashes... AND it actually makes me look better!
A lot of sensitive skincare and haircare products may be gentle, but almost all the ones that I've tried are simply not that effective.  If you want results, I recommend you start with Cleure.
Newest products are their extremely effective hypoallergenic eye cream, an oil free facial moisturizer, and a strong hold hypoallergenic hair gel.
These safe skin care products are affordable, and packaged in generous sizes so you save time and money by not having to order very often.   Available worldwide.
Cleansing, Toning and Moisturizing
Eye Cream, Facials Mask and Gentle Scrub
Cleure Safe Hair Care

These are THE best hypoallergenic hair care products I've ever used on my hair. See my before and after pictures over at our hypoallergenic shampoo page.
Cleure Safe Body Care
These products are concentrated, affordable and will last a VERY long time. You need just a little of each product to get a good result.
Hypoallergenic Hand & Body Soap
Hypoallergenic Lip Balm (fragrance free, looks like lip gloss on your lips!)
Salicylate free gylcerin soap - this comes in unscented or mild Gardenia or Vanilla fragrance, one of the very few salicylate free scented soaps!!
Cleure Safe Dental Care

These products were created by a dentist and do an outstanding job of whitening and cleaning teeth with no harsh chemicals.
Contains NO sodium lauryl sulfate which can cause canker sores and allergic reactions.
Cleure Safe Cosmetics
These are the least irritating hypoallergenic cosmetics and safe skin care products that I know of. The mineral makeup contains NO bismuth oxychloride, no nanoparticles, no parabens, fragrances or other irritants for sensitive skin, and comes in a wide variety of shades which you can mix and match to get just the right look.

It is extremely difficult to find a hypoallergenic nail polish that will disclose ALL their ingredients. Cleure is one of the few companies that will tell you exactly what is in their products.
Safe Nail Polish - free of toxins, contains NO Toluene, Camphor, Formaldehyde, Pthalates or other harsh chemicals
Please note that some older product formulations this company makes still contain parabens... these are clearly marked when you visit the site, so please read the labels.
Safe Skin Care Products - Acne Treatment Program for Sensitive Skin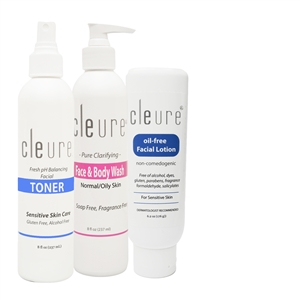 Cleure has some truly amazing oil free products, which even at my age I've appreciated.  My skin has developed into combination skin, with some parts oily and others dry.
Their oil free cleanser is soooo gentle but it dissolves oil on your skin without irritation.  It also can remove sticky band aid residue, and even ink stains on the skin without any redness!
Their oil free facial moisturizer for sensitive skin is lightweight and smoothe, creating a matte finish that leaves your skin fresh and supple without any trace of greasiness.
Use these safe skin care products together for two weeks and you are guaranteed to see a reduction in acne or the company will refund your money! 
Concealer (optional)
Safe Skin Care Products - Help for Wrinkles and Aging Skin
It is VERY difficult to find safe, natural skin care products that will help to improve the appearance of your skin WITHOUT irritation. I've tried so many products marketed as gentle and natural anti-aging products that end up causing terrible breakouts!
These are some of the products that I've found to be safest and also most effective. Please see my comments so you can choose the products that are best for your needs. Be sure to do a skin test before applying anything to your face!
My #1 Antiaging Recommendation - Carolyn's Facial Fitness Facial Exercise Program
Carolyn's Facial Fitness Facial Exercise Program is truly one of the most brilliant and affordable all natural anti-aging treatments available today.
This will make an incredible difference in your skin, and you only need to buy it once!
There are also a number of side benefits, as doing these exercises also stimulate important meridians and energy pathways in your body that support health.
I do the exercises 15 minutes a day, three to five times a week, in the morning before getting out of bed.  I find this is better than a cup of coffee at helping me to wake up and start the day.  My whole face and neck area feels energized, and I get fewer headaches.
Some people do their facial exercises at night as a way to wind down and relax before sleeping.  Others do their facial exercises as a part of their other fitness workouts.
I started using Carolyn's Facial Fitness when I turned 50, and people are always telling me that I look much younger than my age.   I actually enjoy being my age rather than trying to be somewhere that I am not, but I am so happy that my face reflects the joy and vitality of life!
My #1 Most Effective Antiaging Skincare for Sensitive Skin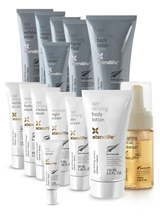 Xtend Life Antiaging Skincare products are incredibly effective and so far have been very gentle for my sensitive skin.  
I first tried them during a stressful time in my life when I was getting skin breakouts from literally everything I used, even home remedies!
I was amazed that I did not break out, and had no skin rash or bad reactions.  Even better, I saw results right away.  I noticed a distinct reduction of facial wrinkles within the first day of using them.
This is one of the few product lines that address aging skin that I can use.  Their body cream reduces wrinkles as well! I have sun damage on my left arm from when I lived in sunny central Oregon, and the wrinkling is much less noticeable now.
New, they have developed a gentle and extremely effective age defying serum,  a new sheer day and night cream, and a nourishing hand cream.
Xtend life  skincare products are all paraben free and gluten free, and there are no dyes, or colorings.  Most are fragrance free, except for their cleanser and skin lightening creams.
The company develops, formulates and manufactures their own safe skin care products to maintain an extremely high quality. They are very affordable compared to most high quality anti-aging skincare lines.

They offer a women's and a men's skincare line, which are similar but have some differences to provide additional help for the specific needs of men's skincare.  
The Xtend Life Men's Skincare products are the ONLY skincare that my husband uses.  He is very hard to please and has extremely sensitive skin, and he loves them!
These products are effective because the active ingredients are used in high concentrations that bring safe and noticeable results to the skin.
Xtend Life also makes one of the highest quality and most affordable safe skin lightening products.   If you suffer from age spots, acne scars or hyper pigmentation, this produces a noticeable improvement in the appearance of your skin.

Xtend Life Skincare products are available worldwide.

My #1 Most Potent Antiaging Safe Skin Care  - Carolyn's Facial Fitness Skincare

Carolyn's Facial Fitness Skincare Products are designed to go with her facial exercise program.   I find them very effective and potent, but some were too stong for my skin.
They are quite nice, and go on your skin luxuriously. The products are pure, free of fragrances, colorings, dyes or harmful chemical, and highly effective for their anti-aging benefits.
New, Carolyn now has haircare and bodycare products! Also, she now has a certified facial fitness trainer to help you to customize your facial exercises.
These are all natural and mostly organic formulations, available worldwide. The most potent products in her line are the serums, so if you have VERY sensitive skin, I recommend you start with her Basic Therapy Pack first, and that you do a skin test on the inside of your elbow and then try just one new product at a time.
My #1 Fastest Results Antiaging Skincare Recommendation
MyChelle Skin Care products were designed for sensitive skin and extremely safe and also very effective. They are available in the U.S. and they have a wide variety of products however I am only able to use a small number of them, as most are too intense for my sensitive skin. The link I provided is to my own hand picked collection which I use.
The two MyChelle products that will give you a VERY fast facelift are the following: MyChelle Peptide Anti-Wrinkle Serum  which is a light serum that you apply after cleansing and toning your skin, and before applying moisturizer. I notice the wrinkle reduction effects immediately, and it does not cause my skin to break out.
MyChelle G2 Instant Firming Serum which does exactly what it says. It firms up your skin and provides a noticeable facelift. I apply this after using the Notox, and before applying moisturizer. The ingredients have a very slight scent from the ingredients themselves, but there is no added fragrance.
Safe Skin Care Products - Newest Choices for Firming  Sensitive Skin Gels
I've been putting together this hand picked collection of safe skin care products for many years now, which is based on my searching for various safe natural skin care and natural beauty products for my friends and family YOU, my valued visitors!
When I find a brand new product that I have used successfully for a while, I recommend it here!  
This year, I've noticed that my skin seems to need a lighter moisturizing especially in the summertime, so I've been experimenting to find some hypoallergenic skin gels that provide light moisture without too much of a creamy consistency.
I've been so pleased to find not one but two new light, firming skin gels that are working well for me.
My skin does better if I rotate a few products, and so I am thrilled to have two new choices for the humid and hot summer months!
Cell Food Skincare Oxygen Gel - This is a very mild and refreshing facial gel that goes on lightly and firms the skin as well as tightening enlarged pores.  I find it reduces the appearance of fine wrinkles and it feels literally like a breath of fresh air on your face.  Whenever I feel exhausted or stressed, I find this gel to be an amazing lift!  It has a light lavender scent from essential oil which disappears after a few seconds.
Michelle Bio-Firm Hydrogel - This is a new product which can be used alone or paired with other Mychelle serums.   It is a great choice if you live in a humid climate as it will moisturize without being sticky.  This gel goes on smoothly and is refreshing, and is unscented.  I found one review that claimed that the product didn't absorb into the skin, but for my skin it absorbs quickly and moisturizes without being heavy or greasy.

Frequently Asked Questions
These are answers to some of the questions we receive about safe skincare products ...

Home > Safe Skin Care Products