Mineral Makeup
Hypoallergenic Makeup for Sensitive Skin
These tips on choosing a safe mineral makeup for sensitive skin will tell you the pros and cons of using minerals, how to choose the best hypoallergenic makeup to avoid skin break outs, and which ingredients to stay away from if you have sensitive skin.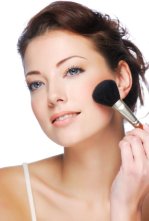 In addition we'll share with you some tips on how to apply mineral and hypoallergenic makeup for best results, depending on your skin type!
We're also in the process of adding some mineral makeup reviews and other tips that will help you to find makeup that will work for your skin.
The Challenge of Finding Safe Cosmetics
Mineral makeup is becoming more popular as more women learn about safe cosmetics and about the importance of using non-toxic products on their skin. Since our bodies absorb anything we apply to our bodies or our face, it is wise to make safer choices!
For those of us with sensitive skin, it can be quite a challenge to find healthier and safer alternatives to traditional makeup, so we can look and feel beautiful without harmful chemicals.
The ONLY way to find what will work for your sensitive skin is to do your best to avoid ingredients that are irritating to your skin.
I am still working on find a completely safe mineral cosmetics line. So far the one brand I use has only SOME safe mineral makeup products. Their loose mineral powders and newer products are all safe, and the older products like the liquid foundation contain parabens and propelyne glycol.
The other brand I use has one loose minerals product which is very safe.
So, it's a process and I am searching now to find the safest brands to share with you. I have included links below to those products which I know are safe.
Finding a Non-Toxic Hypoallergenic Makeup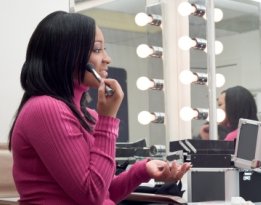 Will mineral makeup work for your sensitive skin? The only way to know is to give it a try!
Not all mineral makeups are created alike. Some brands have quite a number of chemical irritants and can actually cause skin rashes and outbreaks!
Most mineral cosmetics contain zinc oxide and titanium dioxide, which are considered reltively safe ingredients by most standards, although some people have concerns about both of these ingredients and especially titanium dioxide.
From what I understand as I've researched this, the problem with these ingredients starts when they are micronized, which means the particles are made smaller and finer so the makeup goes on smoother.
This process creates ultrafine particles which are also known as nanoparticles. The problem with micronized forms of titanium dioxide and zinc oxide is that these normally safe substances, when reduced in size, develop the capacity to enter the cells of the body.
These ultrafine nano particles can enter any part of the body, including the lungs and nervous system, which can cause not only irritation and rashes, but worse consequences such as DNA damage to the cells.
Not all cosmetic companies will tell you whether they are using nanoparticles in their makeup. You need to find a company you can trust that makes truly hypoallergenic makeup which avoids the ingredients such as nanoparticles, parabens, fragrances, artificial colorings, bismuth oxychloride and other allergens that can irritate your sensitive skin. We have some tips below on how to choose the best mineral makeup for sensitive skin.
Most mineral makeups come in loose mineral form, which generally has the purest ingredients. Like any new product that you try, please do a skin test on the inside of your arm or behind your ear first, before applying it to your face.
Read the Labels!
Not all hypoallergenic makeups are created with non-toxic and non-irritating ingredients. Be sure to read the labels on your loose minerals to learn whether your brand of makeup is really safe, or whether it contains ingredients which can create irritation for the skin.
For tips on how to do this, please see our Safe Cosmetics Guide which will give you a general idea of the ingredients that are most likely to cause skin problems.
Coming up next, I have created several sections with helpful tips on how to choose the best mineral makeup for your sensitive skin, and how to apply it according to your skin type and the kind of coverage you want on your face.
Benefits of Mineral Makeup
Mineral makeup offers many unique benefits which is why so many women are using it now! Here are just a few of the reasons why.
It contains many of the same ingredients as traditional makeup, but without toxic ingredients.
It is useful for all skin types including very sensitive skin.
Some of the main ingredients are titanium dioxide and zinc oxide which are anti-inflammatory.
It can reduce redness for skin that has acne or rosacea.
Most brands will allow your skin to breathe, and will not clog your pores. For this reason it does not aggravate acne the way traditional makeup would.
Loose minerals offer long lasting coverage. Although some advertisements promise that you can sleep with your makeup on, I wouldn't recommend this! Even if your makeup is safe, your skin needs to rest, rejuvenate and to be free to restore itself naturally.
It evens out your skin tone and offers a lightweight coverage with a natural look and feel.
The ingredients offer natural sunscreen protection, and have an SPF (sun protection factor) of 15 to 25 depending on the brand. Still, I recommend you use sunscreen under your makeup to be extra sure, as sun does age your skin and create wrinkles. Take it from me! :-)
It also protects skin against environmental pollutants by creating a safe barrier that prevents toxins from being absorbed.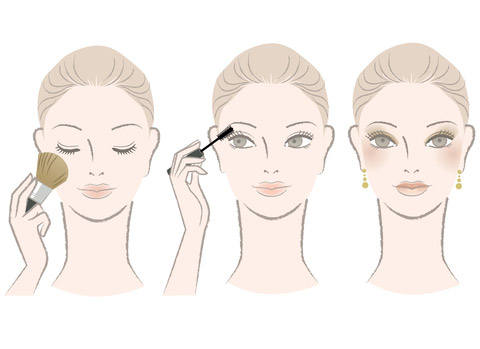 Drawbacks of Mineral Makeup
Every person's skin is completely unique, and not everyone has had a great experience using mineral makeup.
Some people find that loose minerals can be drying for their skin. If this is he case for you, see our makeup application tips below for a unique solution which may solve your problem!
People with sensitive skin may find even the natural ingredients in some brands can be irritating. Some people are allergic to botanicals and plants, so natural skin care products can cause irritation. This depends entirely on your unique skin, and also on the brand of cosmetics you are using.

Be sure to choose a hypoallergenic makeup with safe, non-irritating ingredients for best results. See our free Safe Cosmetics Guide which will show you exactly which ingredients tend to most irritate sensitive skin.
Some people with darker skin complain that mineral makeup creates an ashy undertone to the skin. In this case, you need to choose some different colors, or find a company that makes hypoallergenic loose minerals for darker skin.
Some women feel that the minerals accentuates their wrinkles! I've had this trouble myself. If you have found this to be a problem, you may not be applying the makeup correctly. Check our application tips below.

Another way to reduce the appearance of wrinkles when using mineral cosmetics is to mix your loose minerals with your moisturizing cream so that the minerals do not settle in the folds of your skin.

Also, try using a cosmetic line that offers a separate hypoallergenic concealer product that is made specifically for blemishes and wrinkles.
How to Choose a Mineral Makeup for Sensitive Skin
There are no safety regulations for cosmetics, personal care products or makeup, so it is up to us read labels carefully!
Some of the ingredients to avoid include dyes, carmines, fragrance, propylene glycol, talc, bismuth oxychloride, petroleum derivatives, methylparaben, propylparaben, and urea.

These ingredients are all irritating to sensitive skin and are not necessary in the formulations. There are safer ingredients that will so the job and help you to look great without adding more stress to your skin!
Avoid nanoparticles, which are also known as micronized (pulverized or crushed) titanium dioxide or zinc oxide. In the micronized form, which are also called nanoparticles, these ingredients may be a health risk. In their standard form, they are safe.
Make sure you choose a brand which will not clog your pores! Avoid Bismuth Oxychloride which is an irritant, causes itching, acne and rashes, and can clogs your pores. Bismuth Oxychloride is often used as a binder, and is a byproduct of lead and copper processing. Do you really want a lead by-product on your face?
How to Apply Loose Minerals
Traditional makeups are pretty straightforward to apply. Open the bottle of foundation, and spread on your face. Pat a little blush on and you're good to go!
Mineral makeup is a little different and you have several options available depending on how much coverage you would like, and what looks best on your skin. Here are several different methods for applying loose minerals. Try them and see which one works best for your skin!
Mineral Makeup for Dry Skin
If your skin is dry or flaky, you can still use healthy makeup! Combine the loose mineral foundation with a pure, fragrance free hypoallergenic face cream .
Place a small amount of the loose minerals makeup powder on a clean surface, and add the face cream. Mix until you have achieved a smooth consistency, and use your fingers or a makeup wedge to apply. Voila! You will see beautiful, moist skin that will look great all day.
Loose Mineral Brush Application for Controlled Coverage
We have found that a kabuki foundation brush is the best brush for applying mineral makeup. This method will ensure that your makeup goes on smoothly with just the amount of coverage that you want.
Tap a small amount of powder into the lid of the makeup jar.


Swirl your foundation brush around in the minerals. It is important to work the powder deeply into the brush, as this will prevent the minerals from going on too heavy. You'll know you're doing it right if the minerals are almost invisible on your brush.


Tap off any of the excess mineral powder.


Dust the powder across your face. Mineral cosmetics are concentrated and so you will most likely need to use less of it than you would traditional makeups. If you prefer a heavier coverage, you can repeat the process.


Use a smaller brush to apply a little more powder to problem areas that require a heavier coverage. Some companies offer special mineral concealer which is made especially for covering skin imperfections.


After applying your loose minerals, you can experiment with "setting" the minerals by spraying on a fine mist of hypoallergenic facial toner and letting it dry.
Wet Sponge Mineral Application for Medium Coverage
Using a slightly damp sponge, (one that is made especially for the face) and tap the sponge into the minerals until you can see them onhe sponge. Apply your makeup in gentle, upward sweeps across the entire face.
Round Sponge or Puff Mineral Application for Full Coverage
Press a dry round sponge or makeup puff into the mineral powder makeup until half of it is covered. Fold it in half and use a small rubbing motion to distribute the minerals evenly on both sides of the puff or sponge. Gently apply the makeup to your face and repeat as needed until you have the coverage that you want.
Finding Hypoallergenic Mineral Makeup
Not all mineral makeups will work for sensitive skin. I recommend you test each new product behind your ear, or on the inside of your arm, before putting it on your face.
Some loose minerals have wonderful, natural ingredients but even natural oils and plant extracts can sometimes be irritating, depending on what you may be allergic too.
Other makeups may be very pure and non-toxic, but they work terribly! That is always a disappointment, especially because you are wearing makeup to look better, not worse! :-)
And then of course there are very pure and effective mineral makeups which work great, but they cost your entire paycheck!! Yes, unfortunately some are very expensive.
It's not always easy to find something that will work for YOUR sensitive skin AND that will also look good ... and not break the bank!
One important tip I have learned: choose a brand that a contains fewer number of ingredients.
This makes it LESS likely you will have a reaction to one of the ingredients.
Here's What I Have Found So Far
I haven't worn makeup for years and so I'm just now starting my exploration of safe cosmetics.
So far I am using a brand of hypoallergenic cosmetics that is made by a small, family owned company that I trust named Cleure which makes the only brand of hypoallergenic products that I can find that is free of fragrances and most toxic ingredients and is also free of plant and botanical allergens which can irritate sensitive skin.
Their products are also 100% salicylate free which makes them some of the gentlest and LEAST irritating I've found.
At this point in time they just came out with a new line of hypoallergenic makeup products, however their product line is in transition. They haven't yet finished updating their line and so some of their older cosmetics contain parabens and propylene glycol. These are being phased out.
I have not yet had time to personally research all the ingredients of each new product in their new cosmetics line, but I do know that they are paraben free, salicylate free, non-toxic and free of added fragrance.
The cosmetics that still contain parabens are clearly marked but I will include here the products whose ingredients I've checked out most thoroughly.
My Favorite Loose Minerals for Sensitive Skin
Loose mineral foundation - contains just a few ingredients, all of which are safe. This makes it a formula that is less likely to be irritating to sensitive skin. Can be applied with a brush or mixed with your moisturizer. Available in ten different shades. 
Loose mineral blush - is available in eight different shades and contains just four ingredients. Can be dusted on or added to your moisturizer for a healthy glow. 
Loose minerals eye shadow - comes in 12 different shades, and can be dusted on or added to moisture cream. Free of fragrances, dyes and other irritating chemicals. 
Mineral mascara - a really excellent brand of mascara which works just like "regular" mascara but does NOT irritate your eyes.
Additional Safe Cosmetics
They also offer some other cosmetics that are much safer than most, such as: 
Non-toxic Nail Polish - no harsh scents or camphor, no toluene or pthalates, no artificial colorings, colored naturally with mica. The most irritating ingredient appears to be Isopropyl alcohol, which is still so much less toxic than most nail polish products. 
Non-toxic Nail Polish Remover - no harsh scents, made with just one safe ingredient that is soy based. 
Safe Lipstick - Most ingredients in this lipstick are extremely mild. There are two ingredients that are more irritating, Retinyl Palmitate and Polyethelene, which are present in very small amounts.
For My Latest Updates on Safe Mineral Makeup
If you would have additional questions about these products, please contact me and I will share with you the most recent product updates.
For my VERY latest news, please request my Free eBook Clear Any Skin Problem Naturally, and you will be among the first to know of my updates!
More Tips for Finding Safe Mineral Makeup

For more tips on where to quickly look up the ingredients of your makeup to see whether they are safe for your sensitive skin, please request my free eBook Clear Any Skin Problem Naturally which will share with you where to find out which ingredients may be harmful for your skin.
Found a Great Mineral Makeup - Or an Awful One? Share Your Story!
Have you found a great brand of mineral makeup, or one that really wasn't so great? Please do share!
Mineral Makeup Stories Other Visitors Have Shared
Click below to see mineral makeup stories from other visitors to this page...