Scar Makeup for
Sensitive Skin

Not Just for Movie Stars
!
If you're dealing with scars that make you feel self-conscious and unattractive, there are several different types of scar makeup available that can make a huge difference in the way you perceive yourself.
If your skin has been subjected to some kind of trauma such as an injury, burn, or medical procedure, your body's healing process responds by forming new skin cells to repair the damage. Unfortunately, the new skin forms a scar that isn't always a good match to the skin that was damaged.
In cases of serious or disfiguring scars, you may need to seek professional help in the form of plastic surgery, dermabrasion, or laser resurfacing.
While these procedures can be effective, they are risky, painful, and expensive. Not to mention, totally irritating to sensitive skin! Why should you subject yourself to this kind of unpleasant experience when there are plenty of less painful options available that will help you gently cover imperfections?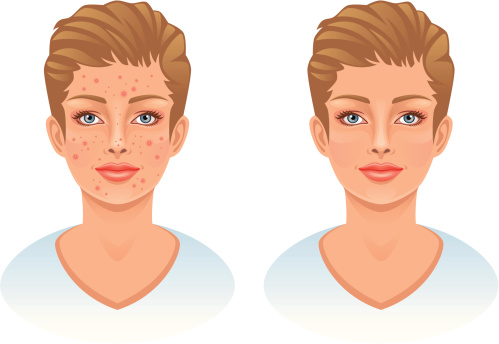 Mineral Camouflage
Loose mineral powder started out as a makeup trend, but it has become very popular as a foundation because it is free of chemicals, dyes, and other additives. This type of foundation is ideal for covering acne scars, especially if there are also active blemishes occurring. It can also be very effective on other types of facial scars.
When you apply mineral makeup, make sure your skin has been cleansed and moisturized. While many mineral foundation products recommend applying with a brush, using your fingertips to apply to scarred areas will provide the best camouflage.
Another benefit of using the mineral foundation is the option you have of creating your own shade by mixing different colors.
Be sure to check the results in different lighting. If you apply too much, you can end up looking pasty or chalky. It may take some practice, but you should eventually develop just the right technique for perfect coverage of your scars.
Be careful when choosing mineral makeup, as not all brands will work for sensitive skin. Visit our Best Mineral Makeup for Sensitive Skin page for more on what to look for.
For more severe scarring, you may need additional coverage that goes beyond a good mineral foundation. Many concealer products are very irritating to sensitive skin, or, they just don't work!. It can be a real challenge to find a very effective hypoallergenic concealer.
Traditional Camouflage Products
Hollywood makeup artists and other professionals are very talented at completely transforming someone's appearance, so it's logical to think that professional-style scar makeup will give you great results.
Professional makeup lines are formulated to provide more complete coverage than the brands that you can pick up in the drugstore. Two brands that professionals recommend for camouflaging scars are Dermablend and Covermark, which are sold online or in high-end department stores.
Dermablend is marketed as being hypoallergenic and suitable for sensitive skin, (perhaps because they do not contain fragrance) but their ingredients list says otherwise to me, containing many potential irritants including parabens, mineral oil, Bismuth Oxychloride … not to mention ingredients of questionable safety like  Retinyl Palmitate. (Please see my Safe Costmetics Guide)
Dermablend Ingredients:
Titanium Dioxide 3%, Mineral Oil (Paraffinum Liquidum), Caprylic/Capric Triglyceride, Ozokerite, Isopropyl Palmitate, Beeswax (Cera Alba), Disteardimonium Hectorite, Acetylated Lanolin, Magnesium Carbonate, Camauba (Copernicia Cerifera) Wax, Octyl Methoxycinnamate, Lecithin, Propylene Carbonate, Propylparaben, Retinyl Palmitate, Silica, Tocopheryl Acetate, Ascorbic Acid. May contain: Titanium Dioxide (CI77891), Iron Oxides (CI77491, CI77492, CI77499), Mica, Talc, Bismuth Oxychloride, Carmine
Covermark contains fewer ingredients, but contains fragrance and parabens and skin-suffocating mineral oil which is inexpensive to manufacture but in my opinion really a poor choice for the health of your body and skin. I wouldn't recommend this as a first choice for concealer products.
Covermark Foundation Ingredients:
Mineral Oil, Titanium Dioxide, Beeswax, Talc, Magnesium Carbonate, Iron Oxides, Propylparaben, Fragrance.
The Cleure line of sensitive skincare products strike a good balance of working well, without a lot of toxins.  Their ingredients list, while not totally pure, is free of most of the common irritants that traditional coverage foundations contain.
Cleure Mineral Concealer Ingredients:
Squalane, Kaolin, Phenyl Trimethicone, Polyethylene/Dimethiconol Copolymer, Candelilla Wax, Water, Glycerin, Cholesteryl/Behenyl/Octyldodecyl Lauroyl glutamate, Pentaerythrityl Tetraisostearate, Silica Dimethyl Silate, Sodium Chondoitin Sulfate, Atelocollagen, Butylene Glycol, Sodium Hyaluronate, Polydodecanamideaminium Triazadiphenylethenesulfonate, Magnesium Chloride Hexahydrate, Sodium Chloride, Lysine, Tetrahexyldecyl Ascorbate, Iron Oxides, Non-micronized Titanium Dioxide, Tocopherol.
The Cleure mineral concealer stick and total cover concealer are both effective in covering more intense scars, and even though they are custom made for sensitive skin, I still recommend that you do a patch test first to be sure that your skin will tolerate it.
How to Use a Concealer
When you want to cover a scar, the best place to start is a concealer. Choose one that is the closest match to your skin tone, but bear in mind that you can also alter skin discolorations by using concealers with green or mauve undertones. If the scar has a reddish appearance, subdue it with green; if it seems bluish, correct it with mauve.
Applying concealer should be the first step in your makeup routine. No matter which type of scar makeup you choose, you should always begin with a clean face. The best way to apply the concealer is to blend it over the scar and into the surrounding skin using a cosmetic sponge. Let it set for a minute, and then you're ready for your foundation:
Choose a foundation as close to your skin color as possible.
Using your cosmetic sponge, apply just enough foundation to cover the scar
Smooth it out over the rest of your face.
Be sure you continue blending past your chin and jawline so that you don't have an obvious makeup line. 
Set the foundation by brushing on a little loose powder, and you're ready to face the world.
Simulated Skin
Aside from scar makeup, another non-invasive way to conceal scars and other types of skin discoloration is by applying a simulated second skin. Microskin is one brand that provides this innovative cover-up. It starts out as a light liquid that dries on the skin, evening it out, and can last for one to two days on the face, depending on various factors.  It's a good solution not only for scars, but also for birthmarks and skin conditions such as vitiligo.
This is such an innovative substance, you need to have consultation and training to be able to use it. It can cost a pretty penny, but you don't have the rub-off effect that you have with most makeup, so you might think it's worth the price.
To apply simulated skin, you can either use a sponge for small areas, or an airbrush for larger areas  if you have problems on areas of your body besides your face. To apply it properly, smooth it on in thin layers so that it builds up gradually until it resembles the texture of your skin.
Although I was not able to find the list of ingredients in Microskin, the founder claims that the ingredients are all natural.  Apparently the alcohol based remover product can have an intense scent.
Hope and Beauty
Going through the trauma of an injury, burn, or surgery is bad enough, but when it leaves behind an unattractive scar, you can feel very discouraged. Some people actually become reclusive because they don't want to take their scars public.
It's good to know that with today's variety of scar makeup options, you have the advantage of Hollywood special effects.  Nowadays, even those of us with sensitive skin have new options to cover scars without making new ones!