Homemade Hair Dye
Avoid Hair Dye Allergies - Make Your Own Hair Dye!
Homemade hair dye is a simple, affordable natural solution that avoids the potential problems you can get from hair dye allergies and reactions to chemicals in hair dye.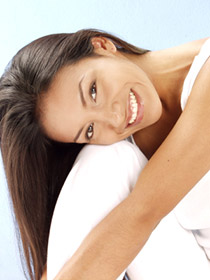 These homemade hair dye recipes can help you to cover gray hair and bring out the natural highlights in your hair without harming it or causing allergic reactions.
The down side of natural hair dye recipes is that they require more patience and persistence to get an effective result. You need to use these every day for a few weeks before you begin to see a difference. The good news is, if you have some extra minutes in the morning or evening to create your home recipes, this is a very affordable natural beauty solution!
I recommend you avoid using these recipes on hair that still has chemical hair dye on it. Wait until your natural hair grows back, as you simply don't know how the home recipes will react with the chemicals from commercial hair dyes. Although using a homemade temporary hair dye is a bit less convenient in the short run, in the long run your hair and your health will thank you for it!
Homemade Hair Dye Recipe for Blonde Hair
Blend one or two tablespoons of fresh lemon juice with 2 cups of strong chamomile tea. After shampooing, rinse your hair with this mixture. Cover your hair with a shower cap and if possible, spend little time in the sun. If that is not possible, sit under a low to medium hair dryer. Over time, this mixture will naturally lighten blonde hair. I find sometimes the lemon juice creates a sticky texture on my hair, so you can experiment by using less lemon juice and more chamomile. Be sure to keep this mixture out of your eyes, as it can sting!
You can also use saffron tea which will cover gray hair with blonde highlights. Boil saffron in water and cool, and apply to your hair and let it sit for an hour. Saffron is expensive but definitely will color your hair.
Homemade Hair Dye Recipe for Brunette or Black Hair
Brew up several cups of very strong organic coffee or black tea. Cool and apply to clean hair, then cover with a shower cap and sit in the tub for about 20 minutes. You can add a little apple cider vinegar to the mixture to help set the color in your hair. Shower and rinse, and enjoy the rich highlights! Both of these homemade hair dye recipes have caffeine in them, so I recommend you do this one in the morning. If you are very sensitive to caffeine, use decaffeinated coffee or tea.
Homemade Hair Dye Recipe for Red Hair
If you'd like to bring out the red highlights in your hair naturally, you have two options. One is to blend one part beet juice with one part carrot juice and apply to your hair. Cover with a shower cap and sit in the sun or under a low or medium hair dryer.
If have trouble making or finding these ingredients, go to the health food store and purchase some rosehips and boil them in water until you make a strong tea. Cool and apply and let set in your hair for at least 20 minutes.
Henna Hair Dye - Faster Results
Henna is a well known natural hair dye that women throughout the ages have used to make their hair color more beautiful. Although the procedure takes a while, after your first application you should be able to see some results.
You can henna your hair to cover gray, or bring out natural highlights to the hair. You can also use non-colored henna mixed with hair conditioner to bring volume and shine to thin hair. I should try this one! :-) I'll let you know how it goes. Natural hair dye that is made from henna is both safe and good for your hair.
Natural and Hypoallergenic Hair Care
It is sometimes VERY difficult to find safe AND good quality hypoallergenic hair care products that actually can make you look and feel your best.
I actually went through years of looking for the right kind of hypoallergenic shampoo that did not contain perfumes or harmful chemicals AND that would actually make my hair look good!
For this reason I encourage you to take just a few minutes to learn how to quickly tell whether the ingredients in your hair care products are safe or more hazardous. This is covered in the very FIRST chapter of my free eBook Clear ANY Skin Problem Naturally and you are welcome to get a copy while it is still available.