Cleure Hydrovive Skin Care Review
My skin care review for the Cleure Hydrovive skin care products will focus on the four main products in their skin care line.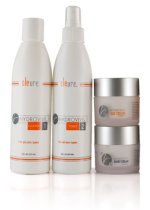 Cleure is a small, family owned company in California that is the only maker of safe hypoallergenic AND botanical free products that I am aware of.
Their skin care, hair care dental products contain no parabens, toxins or other allergy producing ingredients, AND they are free from salicylates and other plant allergens.
I have never experienced a rash or reaction from using their products, and they are some of the LEAST irritating hypoallergenic products that I know of.
All other brands of hypoallergenic shampoo, hypoallergenic skin care and hypoallergenic dental care that I have researched contain chemical ingredients that are very questionable in their health effects.
Please see my safe cosmetics page for more information about why this is important for sensitive skin care.
A personal note
The products mentioned here are products I use myself and am proud to recommend. If you purchase through the links on our site, I receive a small commission which helps me to maintain this site. For more information please read our Advertising Disclosure
My Cleure Story
I found Cleure Hydrovive skin care when I was searching for a good hypoallergenic shampoo.
I wasn't sure that the Cleure skin care products had enough "anti-aging" ingredients for me, as I have sensitive skin, sun damage, a few aged spots, enlarged pores and yes, the wrinkles that come from being around for a while! :-)
I am sensitive to fragrance and my skin breaks out easily for no good reason sometimes, so I try to avoid irritating ingredients in my skin care products.
In the last few years my skin began to break out even from products which I had used previously with success!
I was reluctant to try yet another skin care line, as my poor skin has been through so much recently and it seemed that everything I tried made my face break out!
I decided to take my own advice and try the Cleure Hydrovive skin care products slowly, one at a time. I gave each product a few days or a week before deciding whether I would keep using it.
Here is my experience of using the first four basic Cleure Hydrovive skin care products.
Cleure Hydrovive Skin Care - Cleanser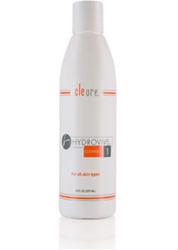 Cleure hypoallergenic facial cleanser is a rich, non-foaming cleanser and at first I had some trouble getting used to the scent, which is not from added fragrances or essential oil, but from the ingredients themselves.
It is a slightly sweet scent which I eventually got used to. It did not cause any kind of skin irritation and it left my face clean, moisturized (without being oily) and free from the drying feeling that you get from most soaps. This is a very gentle and effective skin cleanser and also works really well as an acne sensitive skin treatment.
This product will remove makeup as well as cleansing your skin, and it leaves your skin moist and clean without being dry or irritated.
You don't need a lot, and it did not cause any facial breakouts for me. You can also use it on your whole body as a gentle body wash. I find even the gentlest of soaps to be too drying for my body, so this is a good alternative to using soap.
I've found that facial cleansers can be the most irritating of all the types of skin care products out there, and this one has never caused me a problem.
If you feel a need for deeper cleansing you can also use their new Exfolating Scrub which is incredibly gentle and will leave your skin smooth and silky without irritation or redness. You can use the scrub in place of the facial cleanser, or use them together. I also use the scrub on my whole body, which leaves the skin incredibly moist and refreshed.
Cleure Hydrovive Skin Care - Toner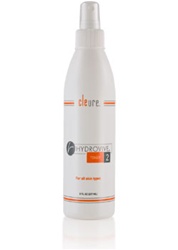 I generally don't use toner except for cold water, but I tried the Cleure hypoallergenic toner and I loved it! You spray it on your face and it leaves your skin gently refreshed and moisturized, without irritation.
A lot of toners have ingredients that can irritate skin or eyes. After my eye surgery, I didn't dare use any kind of toners on my face except for the Cleure toner!
This facial toner does contain milk based Alpha Hydroxy acids which are the gentlest form of Alpha Hydroxy acids. Some people with very sensitive skin find it difficult to handle Alpha Hydroxy on their skin, but I had no problem with it at all.
The first batch of toner that I purchased had no scent that I could detect, and the second one I purchased had a little more of a scent.
All Cleure products are free of any kinds of perfume or added fragrance, however the ingredients of any skin care product will have some scent, unless a chemical is used to mask it. The scent will vary from batch to batch.
The scent of this product is quite minimal and for me caused no problems or irritation. Best of all, I noticed a positive difference in my skin, as it reduced my enlarged pores!
Many people with acne sensitive skin have found a benefit from using the Cleure skin care products, especially the toner.
Cleure Hydrovive Skin Care - Day Cream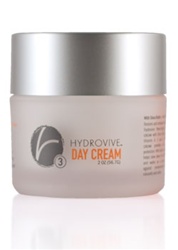 I really love the Cleure Day Cream! It is rich and luxurious, but not greasy. It puts a strong protective layer of moisture on your skin which is great if you have skin damage or other environmental sensitivity.
It works great for me as I live in the high desert and things get pretty dry here.
This cream works for dry skin but also oily skin as well. You need a VERY little bit to moisturize your entire face, especially if you are using the cleanser and toner.
It contains shea butter which helps protect skin against the sun, and Vitamins C and E.
This product also provides some skin protection, which is great if you have skin that is too thin, such as skin damaged from steroid creams or that is easily affected by the elements.
This skin care product has no scent that I could discern, and even my husband loved it! He is even more sensitive to fragrance than I am.
A note about the anti-aginging properties of this product... I didn't notice any kind of significant reduction in wrinkles, sagging or bagging of the skin when using this cream, although I DID see a NOTICEABLE benefit from using their night cream, which I have described below.
Cleure Hydrovive Skin Care - Night Cream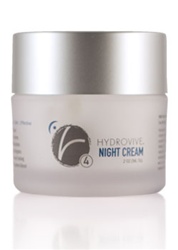 This is a really outstanding product. The Cleure Night Cream is luxurious and very moisturizing without being greasy. There is no scent that I could detect, and it feels very pure and clean going onto your skin.
I noticed a significant anti-aging benefit from using the night cream, as my face was smoother, more radiant and firmer after using it. It was another "thumbs up" from my husband as well, as it is designed for both men and women.
The Night Cream a bit more expensive than the Day cream, because of its Alpha Lipoic Acid ingredients, and it can also be used during the day to get the benefits.
My Overall Experience With the Products
I love these products for several reasons.
First, they are some of the LEAST irritating facial skin care products that you will find on the market.
Secondly, they are some of the MOST effective hypoallergenic products I've used. So many hypoallergenic products have few irritants, but they just don't do much for your appearance!
Third, these are the SAFEST hypoallergenic products that I have found. They have managed to formulate effective products that also do not contain toxins, parabens, fragrances and other irritants. That is quite an accomplishment.
Fourth, the are extremely AFFORDABLE and they come in generously packaged sizes that will last you a LONG time. You also don't need a lot of the product to get a good result.
These products provided my skin with excellent moisturizing and protection for the skin.
The day and night creams had no fragrance that I could detect. For some who are sensitive to fragrance, you may have trouble with the scent of the facial cleanser.
I personally was able to adapt to the scent because I found the benefits to my skin to be worth it.
The only thing MISSING for me with these products is that I do NEED some extra antiaging support at my age. :-)
I also have had a great experience with the Exfolating Scrub and their hypoallergenic facial mask, which I hope to share in another review soon.
Cleure Hydrovive Skin Care - Extra Benefits for You
Cleure is one of the VERY few products I recommend here on this site.
We provide everyone who purchases Cleure products through our our personal referral some extra discounts and benefits.
Simply e-mail me after you've purchased your Cleure products and I will send you our special Cleure customer benefits package, which includes a free $27 eBook.