Sensitive Skin Sunscreen
How to Find Hypoallergenic Sunscreen That Works
Why is it so difficult to find a really good sensitive skin sunscreen? You try one brand, and your face swells and turns red, and your eyes sting. Then you try another one, that is supposed to be a sunblock for sensitive skin, but it covers you with a slick, greasy white film that makes you look like a ghost!
Or even worse, you pay a lot of money, use the sunscreen and come home with a sunburn!! Yes, that's happened to me too.
How can you find a sunscreen for sensitive skin that actually works, and that won't turn your poor face into a mass of skin rashes?
Common Sunscreen Ingredients and 
Why These Don't Work for Sensitive Skin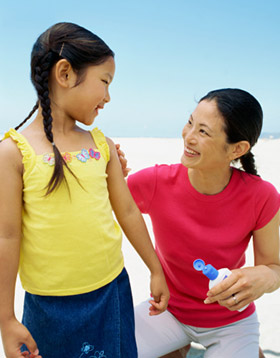 Some of the most commonly used and most effective sunscreen ingredients are quite toxic for your health. An effective and popular chemical sunscreen is Oxybenzone or Benzophenone-3 which works really well, but it also a hazardous chemical which is absorbed into your skin. Research by the centers for Disease control estimates that the body tissues of 97% of Americans are contaminated with this chemical.
Ironically, Oxybenzone can cause photoallergenic reactions. Your skin reacts to the sun and gets red, blistering and even sloughing off, and possibly even darkening afterwards! It is absorbed into the body and causes cellular and biochemical changes, and has also been linked to toxicity of the brain and nervous system.
If you have sensitive skin, you definitely want to avoid Oxybenzone sunscreens!
The Importance of Finding a Good Sensitive Skin Sunscreen


You need to find ways of being protected from the sun, so that you can avoid premature aging and skin cancer.
At the same time, if your sensitive skin sunblock has chemicals that can cause health risks and skin cancer, then you are "back at square one", no better off than when you started.
This is the dilemma we face with sensitive skin. The reality at this point in time is that there are no really great solutions. Even the safest sensitive skin sunscreeningredients carry health risks and may cause allergic reactions.
You will have to weight the benefits of the sunscreen against the risks, and try out different brands and see what works for you.
Safer Sunscreen Ingredients
These chemical sunscreens are safer than Oxybenzone, and are quite effective sunblocks, but they still have moderate health hazard risks and can cause allergic reactions. I personally do not use these ingredients as they are too much for my sensitive skin, but I am including the information here so you can make your own decisions.
Be SURE to do a skin test on the inside of your arm before using any of these ingredients on your face!
Octinoxate or Octyl Methoxycinnamate is one of the most popular sunscreen ingredients. Though it is less likely to cause the same kind of allergic reactions that Oxybenzone does, it is still irritating. Research has shown this is ingredient can product allergic reactions in the skin, eyes and lungs.
It is absorbed deeply into the skin and can create cellular and biochemical changes, and it can stay in body tissues for years after you use it. There is significant research indicating that this ingredient has estrogenic effects on your hormone levels, and that is can disrupt your thyroid hormone and brain signaling.
Mexoryl SX is an UVA-absorbing chemical that was approved by the FDA in 2006. It has been used in the EU for many years, but it's use is restricted in Japan. This ingredient is quite effective but needs to be reapplied frequently as it degrades up to 40% after 2 hours in the sun. One benefit of this ingredient is that it does not penetrate into the skin as deeply as Octinoxate or Oxybenzone.
Research has linked use of this chemical to the development of cancer and skin allergies, although the Cosmetics Database ranks this ingredient as slightly safer than Octinoxate.
Safest Sensitive Skin Sunscreen Ingredients
These two sunscreen ingredients are often used in sensitive skin sunscreen formulations. They are NON-penetrating, which means they sit on top of your skin and are not absorbed into your bloodstream. That is the good news.
The bad news is, they turn your skin white, and they are less effective than some of the chemical sunscreens!
Zinc Oxide has been used in sunscreens for many years and it does not penetrate the skin and very few negative health effects have been reported. I recommend you avoid sunscreens with zinc oxide nanoparticles, because even though they do not penetrate the skin, they are potentially toxic if inhaled.
Titanium Dioxide is another common non-penetrating sunscreen that are often used in sensitive skin sunscreens
Titanium dioxide has a long history of use in sunscreen and other products. It appears safe for use on skin, due to low penetration but inhalation is a concern. Some titanium sunscreens containing nano-size particles may have greater toxicity to body tissues and environment.
My Experience with Sensitive Skin Sunscreen
I've been looking for years to find a good sensitive skin sunscreen. I haven't yet "hit the jackpot" and found the one that works THE best on my sensitive skin.
I uses to use the fragrance free brands at the health food store, until I learned about the many hazardous ingredients that are included in sunscreens.
I read this report, which you might want to as well, from the Environmental Working Group.
In a new investigation of 882 name-brand sunscreens, the Environmental Working Group (EWG) found that 4 out of 5 sunscreen products offer inadequate protection from the sun, or contain ingredients with significant safety concerns. Leading brands were the worst offenders.
After learning about this, I stopped using the sunscreens that contained hazardous ingredients, and became much more careful about what I put on my face and body.
The problem is, that I haven't really found a safer sunscreen that also works really well yet!
After dozens of attempts, here is what I've found. I rotate between these three products, and am still looking for a better solution.
Even the safest sunscreens sting my eyes and so I can't use them on my face. One exception is MyChelle's Sun Shield SPF 28 which doesn't sting my eyes. The problem is, it doesn't really work to protect my face from even an hour of sun exposure! It does have the benefit of not looking as ghostly white as some of the other sensitive skin sunscreens, and it also does not have a noticeable scent.

One additional benefit of this cream I've discovered is that the sinc oxide acts as a protective barrier for the skin. If you zre dealing with steroid induced skin damage or rosacea then Sun Shield may be of help to you.
California Baby Sunscreen is more effective than MyChelle, but it stings my eyes so I can't use on my face. This sensitive skin sunscreen has the added benefit of being water resistant, so it is good for children and will stay on your skin for a while. It does make your skin very, very white, and I found it difficult to find one that did not have added essential oils for fragrance. They do make one, but I had trouble finding it at the time.
The new Cleure sunscreen is what I have been using right now.

The pluses .... it DOES work, it doesn't make you as white as a sheet, and I have been able most days to use it on my face without getting eye irritation.

It does go on nicely without a greasy feeling and contains shea butter and other ingredients to moisturize the skin. It is more creamy and less chalky than the California Baby brand.

The minuses are, it is not water resistant and does not have as much SPF as the California Baby brand, and though it contains no fragrances, the ingredients have a mild scent.
Since I haven't been able to find a PERFECT sunscreen for sensitive skin that works well for me, I have started simply wearing long sleeves and hats as much as I can, and being careful to not get too much sun!
New Finds for Safe Sunscreen
I recently discovered a new brand DeVita Professional Skin Care - Ultra Solar which so far is very well reviewed and will be my next choice for trying a new sunscreen. It's active ingredient is zinc oxide and it is one of the few natural sunscreens without Octinoxate or other more irritating ingredients that actually will not make your skin look like chalk!
The reviews on this product are quite good, although one reviewer said that the ingredients list on the product she received contained titanium dioxide as well as zinc oxide. This is considered a professional product that is usually sold in salons however you can also get it on Amazon.
My Latest Sensitive Skin Sunscreen Finds
I am always on the lookout for good sunscreens and I gather together the best of what I find here at my safe sunscreen store. I hope you find it helpful!
Share Your Experience with Sensitive Skin Sunscreens
I'd like to hear your experience with sensitive skin sunscreens. Together we can learn what option may work best for those of us with sensitive and hyper-sensitive skin.
Sensitive Skin Sunscreen Stories
Which sensitive skin sunscreens work well for you? Which ones are just awful? Please share with us!
What Other Visitors Have Said
Click below to see sensitive skin sunscreen stories from other visitors to this page...